Masterpieces by Chausson, Bernstein and Bruch
Featuring:
John Novacek, Piano
Simón Gollo, Violin Soloist
Melissa Draper and Gabriel Gordon, Violins
Leslie Harlow, Viola
Lauren Posey, Cello
Russell Harlow, Clarinet
PROGRAM:
"Concert" for Violin, Piano and String Quartet by Chausson
Bernstein Sonata for Clarinet and Piano
Pieces for Clarinet, Violin and Piano by Bruch
Tickets are Available at the Door:
$25 Regular Admission
$20 for Seniors 62+ / Students with ID
Links for Tickets Online
About the Guest Artists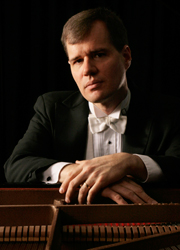 Pianist JOHN NOVACEK regularly tours the Americas, Europe and Asia as solo recitalist, chamber musician and concerto soloist; in the latter capacity he has presented over thirty concerti with dozens of orchestras.
John Novacek's major American performances have been heard in New York City's Carnegie Hall, Lincoln Center for the Performing Arts' Avery Fisher Hall and Alice Tully Hall, 92nd Street Y, Columbia University's Miller Theater, Merkin Concert Hall, The Metropolitan Museum of Art and Symphony Space, Washington's The Kennedy Center for the Performing Arts, Boston's Symphony Hall, Chicago's Symphony Center and Los Angeles' Dorothy Chandler Pavilion, Hollywood Bowl and Royce Hall, while international venues include Paris' Theatre des Champs-Elysées, Salle Gaveau and Musée du Louvre, London's Wigmore Hall and Barbican Centre, as well as most of the major concert halls of Japan. He is also a frequent guest artist at festivals, here and abroad, including New York City's Mostly Mozart Festival, California's Festival Mozaic and those of Aspen, Cape Cod, Caramoor, Chautauqua, Colorado College, Mimir, Ravinia, Seattle, SummerFest La Jolla, Wolf Trap, BBC Proms (England), Braunschweig (Germany), Lucerne, Menuhin and Verbier (Switzerland), Majorca (Spain), Sorrento (Italy), Stavanger (Norway), Toulouse (France) and Sapporo (Japan). Mr. Novacek's current season is highlighted by his debut with the Orquesta Filarmónica de la Ciudad de México.
Often heard on radio broadcasts worldwide, John Novacek has appeared on NPR's Performance Today, St. Paul Sunday and, as both featured guest composer/performer, on A Prairie Home Companion with Garrison Keillor. He was also seen and heard on television, including The Tonight Show with Johnny Carson, Entertainment Tonight and CNN International.
John Novacek is a much sought-after collaborative artist and has performed with Joshua Bell, Matt Haimovitz, Leila Josefowicz, Cho-Liang Lin, Yo-Yo Ma, Truls Mork, Elmar Oliveira and Emmanuel Pahud, and, as well as the Colorado, Harrington, Jupiter, New Hollywood, St. Lawrence, SuperNova and Ying string quartets. He also tours widely as a member of Intersection, a piano trio that includes violinist Kaura Frautschi and cellist Kristina Reiko Coooper. Mr. Novacek has also given numerous world premieres and worked closely with composers John Adams, John Harbison, Jennifer Higdon, George Rochberg, John Williams and John Zorn.
John Novacek took top prizes at both the Leschetizky and Joanna Hodges international piano competitions, among many others. He studied piano with Polish virtuoso Jakob Gimpel at California State University, Northridge, where he earned a Bachelor of Music degree, summa cum laude. Subsequently, he earned a Master of Music degree from New York City's Mannes College of Music, where his instructors were Peter Serkin in piano and Felix Galimer in chamber music. Mr. Novacek's coaches in composition included Frederick Werle, Aurelio de la Vega and Daniel Kessner.
John Novacek's own compositions and arrangements have been performed by the Pacific Symphony, The 5 Browns, Concertante, Manasse/Nakamatsu Duo, Harrington String Quartet, Ying Quartet, Millennium, Quattro Mani and The Three Tenors. He has recorded over 30 CDs, encompassing solo and chamber music by most major composers from Bach to Bartók, as well as many contemporary and original scores. Mr. Novacek records for Philips, Nonesuch, Arabesque, Warner Classics, Sony/BMG, Koch International, Universal Classics, Ambassador, Pony Canyon, Four Winds, Arkay, Virtuoso and EMI Classics. CD titles include Road Movies (2004 GRAMMY nomination as "Best Chamber Music Performance"), Great Mozart Piano Works, Spanish Rhapsody, Novarags (original ragtime compositions), Classic Romance, Hungarian Sketches, Intersection, Romances et Meditations and, with Leila Josefowicz, Americana (GRAMOPHONE: "Editor's Choice"), For the End of Time, Shostakovich and Recital (BBC MUSIC MAGAZINE: 5 stars/June 2005's chamber choice).
John Novacek is a Steinway Artist.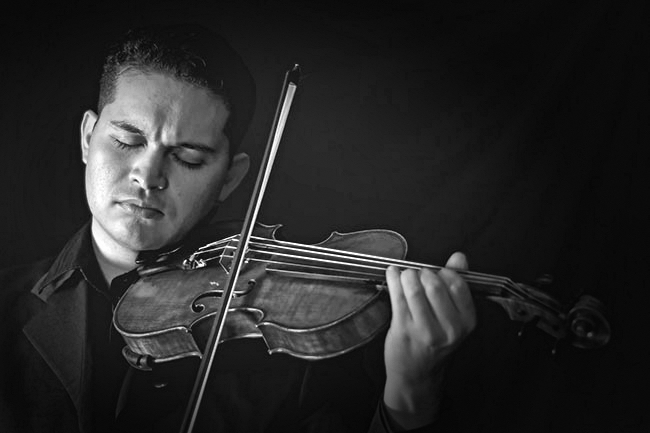 Award-winning Swiss-Venezuelan violinist and orchestra conductor, SIMON GOLLO, has a recognized career in prestigious scenarios such as the Philadelphia Chamber Music Society (Philadelphia, USA), 92Y- Kaufmann Concert Hall (NY, USA), Chamber Music Society of Detroit, National Gallery of Art (Washington DC, USA), Bolivar Hall (London, UK), Teatro Teresa Carreño (Caracas, Venezuela), Auditorio Blas Galindo, (Mexico City, Mexico), Teatro Mayor, (Bogota, Colombia). Performing with international figures such as Alessio Bax, Ricardo Morales, Dmitri Berlinsky, Richard Young, (Vermeer Quartet), Miguel Da Silva, (Ysaye Quartet), John Novacek, Randolph Kelly, Mihai Marica, Yura Lee, Jacob Koranyi.
He appeared as a soloist in Switzerland, United States of America, Argentina, Mexico, Brazil, Colombia, Venezuela collaborating with international conductors such as Conrad Van Alphen, Theodore Kuchar, Carlos Izcaray. ("Orquesta Sinfonica Venezuela, Orquesta Filarmonica de Bogota, Orquesta Sinfonica de Salta. Argentina". Central Ohio Symphony, Classical Music Institute Chamber Orchestra, San Antonio, TX. Among others).
Simon Gollo is a gifted and committed pedagogue who keeps a very busy teaching schedule that includes invitations to teach masterclasses around the world. Since 2016 he has been a faculty member of the Summit Music Festival in New York, Classical Music Institute San Antonio, TX, and the Park City Music Festival Young Artist Institute in Utah. He is also regularly invited by Professor Naoko Tanaka to teach at the Juilliard School of Music. From 2006 to 2012, he was a sought violin professor in "El Sistema" Venezuela and at the Mozarteum Music School in Caracas. He is the Founder and Artistic Director of the Nuevo Mundo Festival & Academy (2000-2016), and the Aruba Symphony Festival, 2017.
From 2012 to 2015, Simon Gollo was a member of the Dali String Quartet, and the St. Luke's Orchestra in NY. Several chamber music ensembles such as Camerata Nordica (Sweden), Classical Jam, (New York) International Chamber Soloists, (Michigan) Post Classical Ensemble (Washington DC), and the Dallas Chamber Symphony, have invited him as a principal player for tours and concerts presented at esteemed venues including the Carnegie Hall in NYC and the Cadogan Hall (London, UK – BBC Proms Festival), among others.
Simon Gollo, earned degrees from the Conservatoire de Musique de Geneve, Switzerland, and the Conservatoire Superieur et Academie de Musique Tibor Varga in Sion, Switzerland. His teachers include Gyula Stuller, Anne Bauer, Gabor Takaçs. Mr. Gollo has also participated in masterclasses given by members of the Amadeus, Bartok, and Sine Nomine quartets as well as violin masters Alexander Kerr, Naoko Tanaka, Tibor Varga, Ana Chumachenko and Igor Bezrodny.
Currently, Simon Gollo is Assistant Professor in the Department of Music at New Mexico State University (NMSU), Conductor of the NMSU Philharmonic and a member of La Catrina String Quartet. He is associate concertmaster and Education Director for the Classical Music Institute (CMI) in San Antonio. TX.